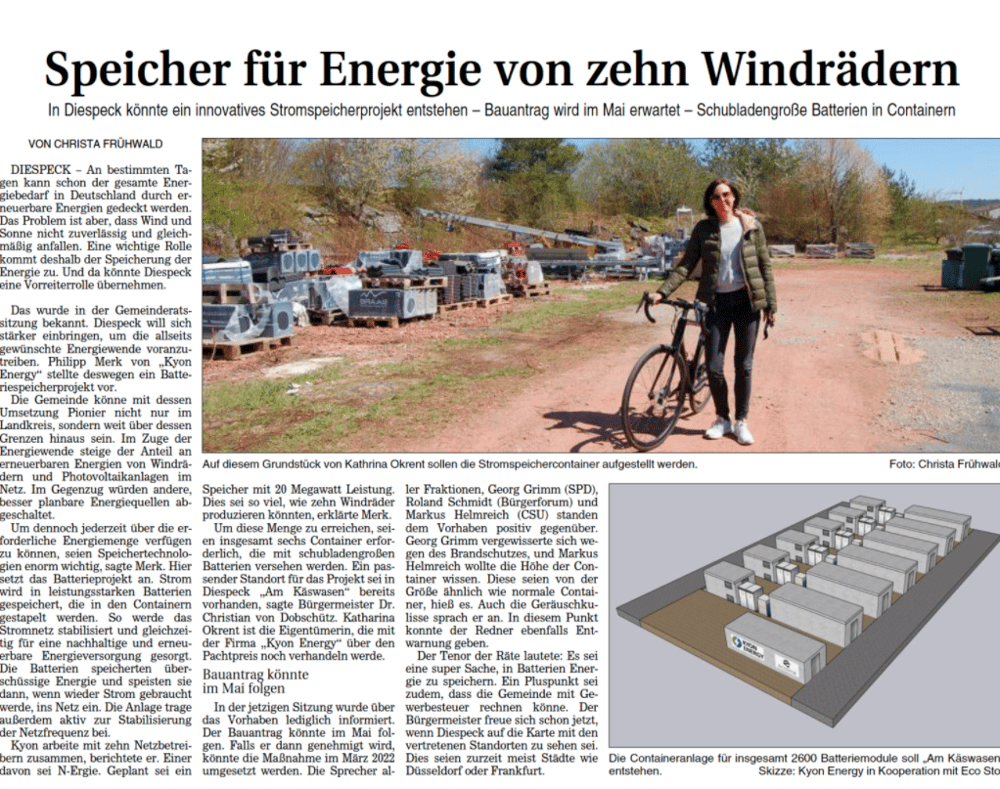 A 20 MW energy storage system under investigation in Germany

ECO STOR
27. april 2021, 1 minute read
An innovative energy storage project could be built in the city of Diespeck, Germany. The construction application is expected in May, for a high-power containerized energy storage solution.
DIESPECK – On some days, all energy demand in Germany can already be met by renewable energy generation. The problem, however, is that solar and wind do not always produce power reliably and evenly. The storage of energy can therefore play an important role, of which Diespeck could take a pioneering part. This topic was discussed at the municipal council meeting, where Philipp Merk of Kyon Energy presented the battery storage project.
With its implementation, the municipality could be a pioneer not only in the district, but far beyond its borders. During the energy transition, the proportion of renewable energy from wind turbines and photovoltaic systems in the grid has increased significantly. As a result of this transition, older and less environmentally friendly energy sources could be shut down.
This is where the battery project starts. Electricity is stored in powerful batteries, which are stacked in containers. In this way, the electricity grid is stabilised and at the same time a sustainable and renewable energy supply is ensured. The batteries store surplus energy and transfer it into the grid when electricity is needed.
A storage plant using six containers with a capacity of 20 MW is planned. Philipp Merk explains that this equals the amount of energy that ten wind turbines could produce.