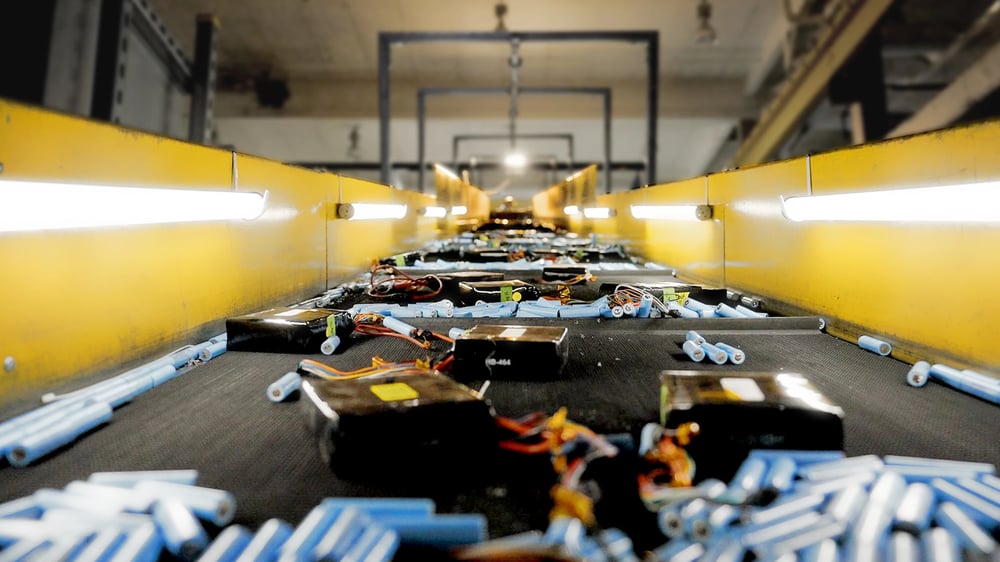 Recycling lithium-ion batteries, from Cell Phones to Electric Vehicles

ECO STOR
22. february 2022, 2 minute read
Lithium-ion are chargeable batteries often found in portable electronics including, but not limited to, smart phones and computers. The extraction of the materials needed to produce lithium-ion have shown to contain local water basins and the salinization of freshwater. Thus, having a negative effect on the local community by shortening their storage of natural resources. Moreover, the mining of the minerals needed to produce batteries raise further social and environmental concerns.
It is projected that the global demand for lithium-ion batteries will increase elevenfold between 2020 and 2030. This is largely due to the popular rise of electrical vehicles which predominantly rely on lithium-ion batteries for power.
ECO STOR in partnership with Li-Cycle Holdings Corp., and Morrow Batteries AS forms a Joint Venture to open a lithium-ion battery recycling facility in Norway.
Our mission – why?
Trygve Burchardt, CEO of ECO STOR commented "As a leading supplier of energy storage solutions in Norway, ECO STOR, has pioneered the development of technologies that enable widespread deployment of second-life EV batteries". Burchardt furthermore explains the sustainable mission ahead - "Providing batteries with a second life is a significant step on the path to delivering stable, clean, renewable energy and we are pleased to provide a complete recycling solution through our new partnership." The facility aims to recycle lithium-ion battery in a sufficient and sustainable manner.
Our vision
The recycling facility will have the capacity to process up to 10,000 tonnes of lithium-ion batteries per year and is expected to be operational in early 2023. The facility will recycle articles including (but not limited to) battery manufacturing scrap, energy storage systems and full EV packs (batteries from electric vehicles). The partners will deliver an integrated closed loop battery production. Thus, offering re-use and recycling of lithium-ion batteries to the Nordic market.
The partnership - recycling lithium-ion batteries together
ECO STOR will provide the facility with end-of-life lithium-ion batteries, and Morrow will provide lithium-ion battery manufacturing scrap from its planned battery manufacturing facilities in Norway. Li-Cycle, being the biggest shareowner, will provide equipment, technology, technical services, and operational management for the recycling facility. Whilst having the right to acquire 100% of the facility's production of black mass.
ECO STOR AS, based in Oslo, provides high-performance, low-cost Energy Storage Systems for residential, industrial and grid connected applications.
Morrow Batteries AS, based in Arendal Norway, is a company that aims to provide the world's most cost-effective and sustainable battery cells. «This partnership will develop a closed material loop ecosystem supporting European customers and will ensure we continue to deliver value from battery materials through re-use and recycling over the long term," Terje Andersen, CEO of Morrow Batteries said.
Li-Cycle is a company based in North America that excels within lithium-ion battery resource recovery. "This is a significant step for Li-Cycle, as we deploy our proven lithium-ion battery resource recovery solution to the European market and execute on our global growth strategy with key industry partners," said Ajay Kochhar, President, CEO and co-founder of Li-Cycle.